How to Choose Your Ceremony Time
One of the most common questions we get when we begin building timelines with our couples is "what time should our ceremony start?" While there are some general rules, the real answer varies based on a variety of factors. That's why at Kaushay & Co. Events we ask specific questions to find the perfect time for your wedding! Scroll down to see the 5 questions we ask when helping couples choose their ceremony start time!
Don't have time for our whole article? That's okay, here's a quick glimpse at our top 5 tips!
Decide if your ceremony will be indoors or outdoors. Indoor ceremonies can offer more timeline flexibility, but outdoor ceremonies are our personal favorite!
Make sure your ceremony time fits into what your venue will allow.
Make sure any outdoor ceremonies and cocktail hours end before sunset. A great rule of thumb is to start your ceremony 2 hours before sunset!
Consider whether you'll be doing a first look, or will need more daylight after your ceremony to get pictures with your spouse!
Consider the number of photos you're wanting to take with your wedding party and family. Think about an earlier ceremony to account for extra daylight for these photos!
---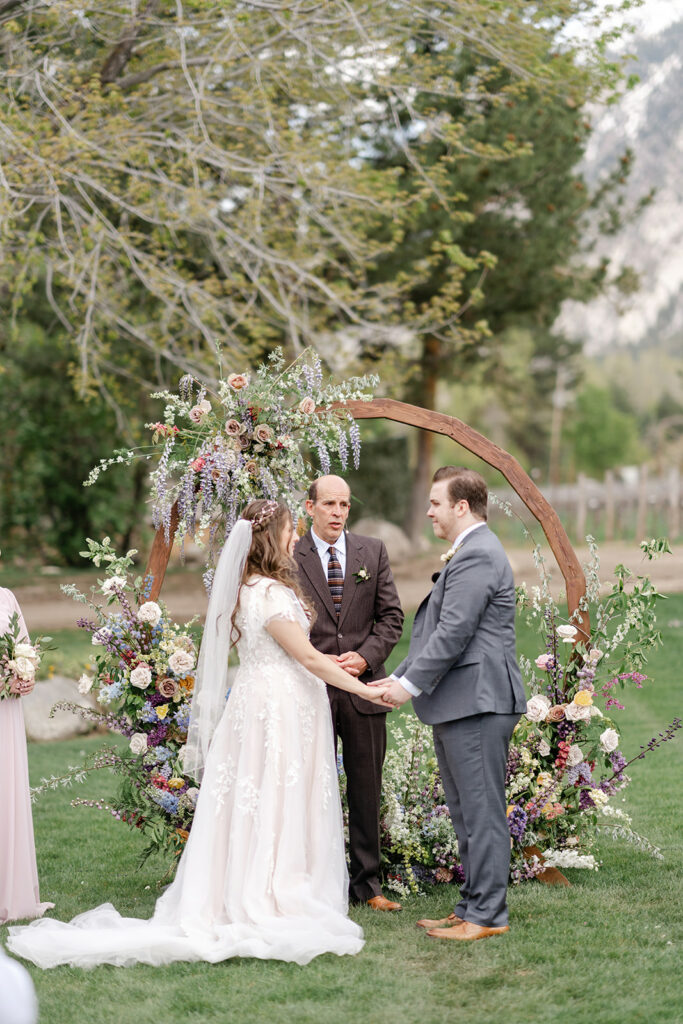 1. Is your ceremony or cocktail hour indoors or outdoors?
One of the first questions to ask is whether your ceremony will be indoors or outdoors. If you choose an indoor ceremony, you'll have more flexibility in choosing your timing. With an indoor ceremony, be sure to consider transportation needs or room flips that may need to happen. For example, is it a 30 minute drive from your ceremony location to your cocktail hour or reception? Make sure your ceremony is early enough that dinner is served at an appropriate time. Is your ceremony taking place in the same room as your reception, and you need to change things around? Make sure your ceremony is early enough to leave plenty of time for the flip, and plenty of time to keep partying! If you decide on an outdoor ceremony (our favorite kind!) the next few tips will be especially helpful.
2. What does your venue allow?
First, you want to make sure your ceremony time fits into what your venue allows since every venue is different! Some may allot smaller windows of time for a ceremony and offer less flexibility. Others give you access to the space all day. Make sure that your selected ceremony reservation allows for setup time, 30 minutes of prelude music, a 30 minute ceremony, and 15 minutes of post-ceremony mingling! Keep in mind setup can take longer if you're planning any large ceremony floral installations.
3. What time is sunset?
If you're having an outdoor wedding ceremony (or cocktail hour) you'll want to make sure these wedding events end before sunset. A general recommendation is to plan for your ceremony to begin 2 hours before sunset! So, if sunset at your wedding venue is 7:00PM, you may want your ceremony to start at 5:00PM. If you have a traditional 30 minute ceremony followed by a 1 hour cocktail hour, this allows you to wrap up these activities before the sun goes down! Keep in mind, you want to make sure that any outdoor photos are taken before the sun completely sets.
4. Will you be doing a first look?
Consider whether you'll be doing a first look, or will need more daylight after your ceremony to get pictures with your spouse! If you're planning on a first look, most of the photos of the couple will be taken prior to your ceremony; so you'll want plenty of time before your ceremony to get these in. Talk with your photographer about the best time and location to do this so that you capture great lighting. You'll ideally want your first look (or any pre-ceremony photos) to be finished at least 30 minutes before the ceremony. This allows you time to refresh hair, makeup, and to take a quiet moment together before your ceremony. Not sure if you want to do a first look or wait until the ceremony? Watch for an upcoming blog post where we talk about all of the pros and cons!
5. What photos are you hoping to take before and after the wedding ceremony?
While the wedding ceremony is arguably the most important part of your wedding day, don't forget to build in time for photos. When you have your ceremony will dictate what photos you can fit in! Traditionally, cocktail hour is prime time for you to take photos with family, your wedding party, and your spouse. That means you'll want to plan on finishing your ceremony early enough to have plenty of natural light for pictures. If you opt to take most of your posed photos before your ceremony, a later start time will be okay!
---
Ultimately, choosing your ceremony time will dictate lots of other things on your wedding day timeline, so make sure to choose wisely! Need help creating the perfect wedding day timeline and keeping everyone on track? All of our planning packages handle timeline creation and management. Get in touch here and let's make magic happen!